Barcelo Maya
Family & Couples All Inclusive Resort
Barcelo Maya Resort is part of the Palace family of resorts; known for great quality.
Upon arrival at your resort, you will be greeted with a welcome cocktail.
The beautiful beach at this all inclusive family resort is nice!
The ocean water is crystal clear and great for snorkeling in the Riviera Maya.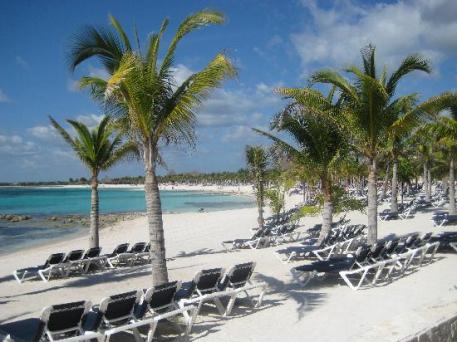 What is unique about this All Inclusive Resort?
5 other all inclusive Mayan Resorts in the Riviera Maya you can use
Unique Colonial Architecture
1500 sq. meter Spa, 2 children's clubs
Club Premium Level
Adult only swimming areas
Kiddie Pools
Babysitting service
Lap pool, Self Serve Ice cream at pool
Check out the awesome adult only pool!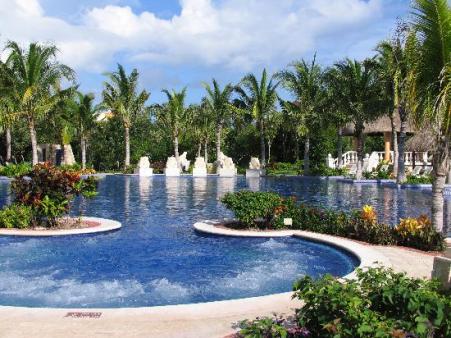 What are the pools like at this family resort?
This all inclusive family & couple resort has one HUGE pool that goes throughout the resort.
There is an adult only swimming pool if you need a little extra peace and quiet.
The pools also have natural rock waterfalls and one has a large jacuzzi for extra relaxation.
A lap pool is open until 10am and then the lanes are taken out to create a normal pool.
A kiddie pool is also available complete with a kiddie waterpark that will be the highlight of your kids beach vacation!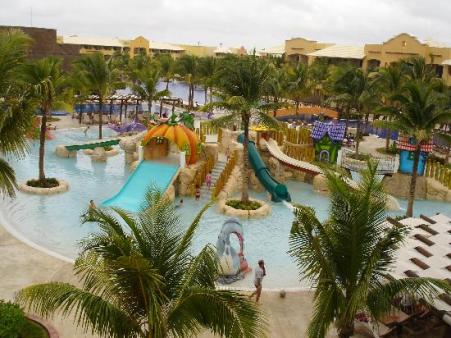 What activities are available?
This resort offers lots of activities that are included in the all inclusive price.
They include:
2 Children's Clubs & kids mini disco
7 tennis courts, darts, kayaking
diving, mini golf, beach volleyball
table tennis, relaxing on hammocks
At night you can enjoy the sports bar,
Dance club for 18 years and older
Nightly entertainment in the theater
With all these activities you will never be bored!
What restaurants are at the Barcelo Maya Hotel in the Riviera Maya?
This all inclusive resort in the Riviera Maya has 2 buffet restaurants.
One is an International buffet and one a Hacienda style Buffet.
There is a Beach Grill, and several a la carte restaurants including:
French, Brazilian, Caribbean, Oriental and Mexican
If you are staying 4-6 nights at this resort you get 2 tickets for the a la carte dinner places.
If you are staying at least 7 nights you get 4 tickets to the nice restaurants.
During your stay I'm sure you will take advantage of the included
drinks at this all inclusive resort. You can stop by the Lobby bar or
pool bar for a quick drink on your way to the beach or pool!
If your just needing a quick snack, you could take advantage of the
self serve ice cream at the pool bar! I'm sure the kids will love that,
and of course adults like me! I can never get enough ice cream!
Room service is available but is not all inclusive. You have to pay $4 per item.
Is there a Spa at this resort?
Barcelo Maya has a 1500 sq. meter Spa!
Special features of this Spa include Mayan Steam Baths,
Curvy shaped architecture, Massages, Floatation room,
Hydrotherapy & Swiss room. Gym and fitness center
You can also receive services at the Beauty salon
such as manicures, pedicures and waxing. Why
not pamper yourself! Your on vacation!!
This is your room at the Barcelo Maya Palace Resort in Riviera Maya!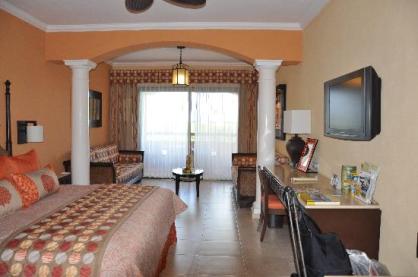 What will my room be like at Barcelo Maya Palace?
The Junior suites are spacious and include:
mini bar, coffeemaker, alarm clock, ceiling fan
iron, pillow menu, digital safe, flat screen tv,
internet connection (fee), slippers, scale
You can upgrade to the Club Premium Level and receive extras such as:
Stunning views, rain shower, sofa bed, dining room
2 terraces, 2 mini bars, 2 TV's, desk
Free internet connection
Special check in, bags will be taken to your room
All inclusive Bowl of fresh fruit


Return to Family Vacations from Barcelo Maya Palace
Return to Riviera Maya Hotels from Barcelo Maya Palace
Looking for adult only resorts?