Playa del Carmen to Cozumel Ferry
Quickest way to visit Cozumel
The Cozumel Ferry is the easiest mode of transportation to get from Playa del Carmen to Cozumel.
While staying in the Riviera Maya Mexico you will be only a 35 minute ferry ride to the great island of Cozumel.

It would definitly be worth your time and a few bucks to jump on the ferry and go check out Cozumel.
It is super easy to do and you will be glad you did!
First, you will need to get a cab ride or shuttle from your hotel or resort to Playa del Carmen.
If you haven't picked a hotel, check out Family Hotels in Riviera Maya, Adult Only Hotels, or Boutique Hotels.

Once in Playa del Carmen it is easy, just look for the signs to the ferry. Believe me, everyone knows where it is, so if you don't see a sign, just ask and they will point you in the right direction.
Once you get to the ferry station, you will need to purchase tickets to the ferry.
TIP: I would suggest only buying a one way ticket, because you may need to buy a ticket on the way back for the other brand of ferry and they are non transferable.
This is the only city that a ferry leaves from to get to Cozumel. You cannot get to Cozumel from Cancun.
There are two ferry companies that operate between Playa del Carmen and Cozumel.
Waterjets (blue and white ferry), and Ultramar (yellow ferry).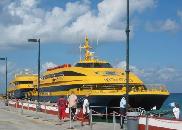 They both run at different times and are about the same as far as comfort and speed so it's best to get a ticket for the one leaving when you want to.
The price for a ticket is about $12.50 US dollars for an adult, and $7.50 for a child.


Ferry Times leaving from Playa del Carmen:
6am, 8am, 9am, 10am, 11am, 1pm, 3pm, 5pm, 6pm, 7pm, 8pm, 9pm, 10pm, 11pm
Ferry Times leaving from Cozumel:
5am, 7am, 8am, 9am, 10am, 12pm, 2pm, 4pm, 5pm, 6pm, 8pm, 10pm
Once in Cozumel there are tons of things you can do, and whenever you are ready to come back, the ferry will be there to take you back to Playa del Carmen.
It's as easy as that! Enjoy your Cozumel ferry ride!

Return to Riviera Maya Hotels from Cozumel Ferry

Want to stay in Playa del Carmen for easy access to Cozumel?