Cave Scuba Diving
Cave scuba diving has to be one of the most amazing things to do while in Mexico.
Cave diving is scuba diving in underwater caves entered into at a Cenote (underwater cave entrance), which is a limestone sinkhole that is filled with water connecting underwater rivers.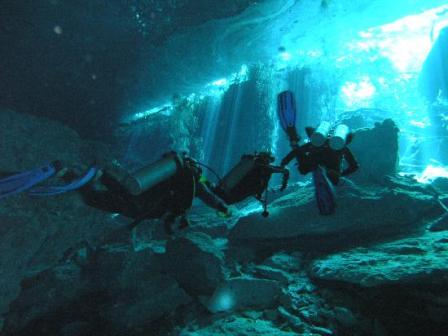 Is diving your passion? Or will this be your first time? Either way, you will experience the beauty of the underworld like never seen before.
If you have scuba dived, then you know what amazing living creatures live in the sea..but it's another world when you scuba dive in a cave.
No current, perfect visibility and fresh water..the perfect combination!
Some of the most incredible spots to cave dive are in the Riviera Maya Mexico. This area is unique to Cenotes also known as underwater caves that connect underwater rivers.
For those of you not from these parts, Cenote is pronouced (say no tay)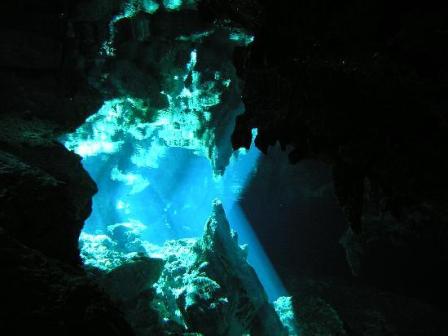 Can you believe that more than 300 miles of connected underwater rivers and caves have been discovered so far in the Riviera Maya!
While cave diving you will see stalagmites and stalactites (we all remember that from grade school right?) with pockets of light shining from the sky.
Now, what kind of certification do you need to cave dive in this area of Mexico on the Caribbean?
There are plenty of dive shops in the Riviera Maya and Playa offering dives in caves and cenotes and you do need an open water certification to be able to dive these cenotes.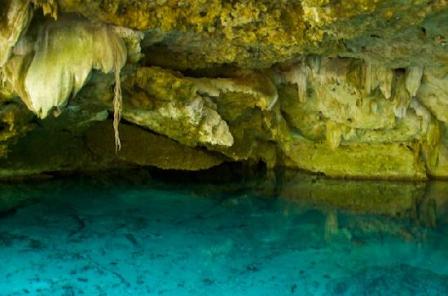 Why? You need to be skilled enough to handle cavern diving as you do not have immediate access to the surface.
If your going to be in Mexico for several days, you can do an open water course in only 3 or 4 days. However, if you can complete your scuba coarse in the city where you live, then you can do your open water dives in the Caribbean in only two days and be completely certified.
There are several PADI certified instructors and dive shops that can get you certified in no time so you can enjoy cave diving in the Riviera Maya.
Are you convinced yet that cave scuba diving is a MUST while in Mexico?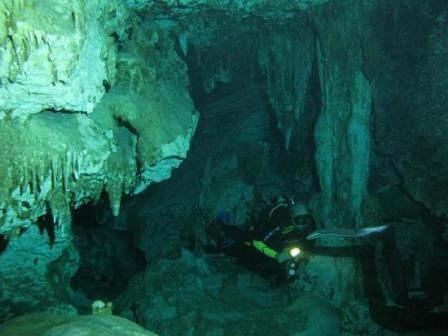 Return to Scuba Diving from Cave Scuba Diving
Return to Riviera Maya Hotels from Cave Scuba Diving