Grand Sirenis
All Inclusive Resort
Grand Sirenis is an all inclusive resort for couples and families.
This property of 450 rooms has several mayan ruins, huge cenotes,
2 natural wonders and 5 virgin beaches.
This area has the largest coral reef on the Riviera Maya.
You can access this reef by swimming to it in front of the resort.
This all inclusive resort is only 10 min. from Playa del Carmen
and 1 hour from the Cancun airport
The beach is a bit rocky, but it's incredible for snorkeling!
There are lots of fish, sting rays and coral in this part of the ocean!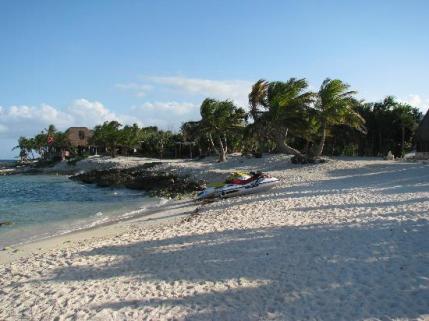 What is unique about the Grand Sirenis Resort?
Brazilian Restaurant, lazy river
separate children's pools
swim up bar, sun terraces
nightly shows like Lion King, Circus
Really nice Spa!
What are the pools like at this resort?
This all inclusive resort has 2 really big pools,
separate children's pools, a lazy river,
sun terraces with loungers, swim up bar
So many choices! Whatever your in the mood for...
there is a pool for you! Pool towel service is included too.
What activities are available?
Grand Sirenis offers inclusive activities such as:
1 hour of non motorized watersports daily.
These are: windsurfing, canoeing, snorkeling and the catamaran.
Table tennis, football, beach volleyball
water aerobics, scuba diving lesson
This is a large resort, great to get a jog in!
Activities for kids include:
Kids club for ages 4-12, play areas,
children's pool
At night there are nightly shows like the Lion King, Black Light Show and Circus Show.
What restaurants are this Riviera Maya Resort?
The Grand Sirenis all inclusive resort has several restaurants including:
Cajun, Mexican, Brazilian, Steak House, Italian,
Japanese, Mediterranean and French (not all inclusive).
Room service is available from 11am-11pm
Inclusive food includes: Buffet meals, house wine by the glass with meals, a la carte dinners (4 guaranteed per person per week), 1 gala dinner per week with lobster, snacks and bars, domestic, premium liquors and soft drinks.
There are indoor/outdoor lounges where you can relax and grab a drink.
Grand Sirenis has a very nice Spa that you might want to enjoy the relaxing benefits of while your on a vacation in the Riviera Maya.
Here is a picture of your room at the Grand Sirenis Resort.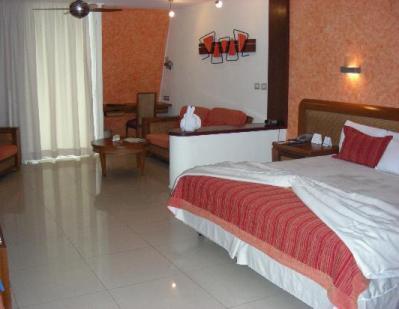 What will my room be like at Grand Sirenis?
The rooms at this all inclusive resort are tastefully decorated and have soft, natural colors.
Your room will have either a king or 2 double beds.
Rooms include a jacuzzi, a/c, hair dryer
TV, coffeemaker, mini bar, safe, fan, deck or balcony,
A standard junior suite is 450 sq. ft. with living area.
A Sapphire junior suite is the above room plus an ocean view, newspaper, night turn down service, bottle of tequila & exotic fruits.
A Diamond Junior suite adds all of the above plus a panoramic oceanfront view.
A Grand Suite is 900 sq. feet, has 24 hour room service, 1 bedroom, 1 lounge, living room, butler service, welcome gift, private bar, champagne and chocolate.
Which room is the best choice for you??



Return to Family Vacations from Grand Sirenis
Return to Riviera Maya Hotels from Grand Sirenis