Mamitas Beach Club
Playa del Carmen


Mamitas beach club is the most well known beach club in Playa del Carmen.
The Riviera Maya offers incredible beaches and this club has taken advantage by having prime beach property.
This Beach club is located at the end of Calle 28 in the north end of Playa del Carmen.
This Beach Club offers a large shaded restaurant with palms and tropical trees on an awesome deck for hanging out and dining.
There is also a dining area on the beach so you can eat on tables in the sand.
The food is your typical beach food that you won't be disappointed in.
There is a small bar but most people drink their delicious drinks on the beach.
Here is a picture at Mamitas Beachfront club.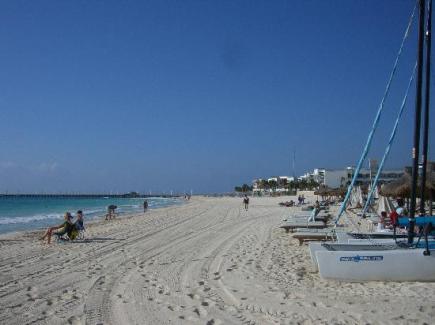 At Mamita's beachfront club there are:
Showers, nice bathrooms, changing areas,
kids pool, double beds, swinging beds,
music played throughout the day,
in the summer there are dances and concerts!
At the beach club you can rent lounge chairs and palapa umbrellas but get there early in the morning!
Food and drink service is available from your lounge chair.
Located near Mamitas beachfront club is dive shops, massage and other activities.




Return to Beach Clubs from Mamitas Beach Club