Ocho Tulum
Boutique Hotel
Riviera Maya, Mexico
Ocho Tulum is a small, intimate hotel in the Riviera Maya.
It is located in Tulum with beautiful white sand beaches.
This eco friendly hotel with 18 quaint cabanas was built from local materials and has a very simple feel to it.
It uses wind turbines and solar renewable energies to supply electricity.
You will grow fond of this hotel as you get to know the husband and wife owners, John & Belen who run the resort.
This charming, simple resort offers an intimate atmosphere in the heart of the Riviera Maya.
Here is a picture of the beach at this beach hotel.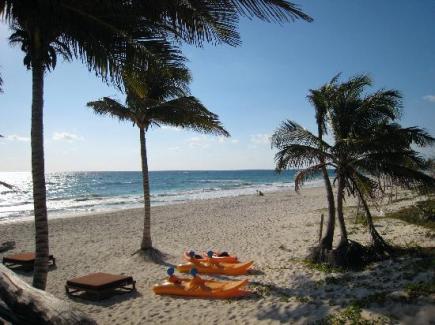 This small hotel offers kayaks and kiteboarding lessons.
There are two yoga classes offered each day as well to rejuvinate and renew you.
Spa services are also available.
Each morning a free continenetal breakfast is provided!
There is a restaurant called Petit Mexican cuisine. It offers a blend of mexican flavors and aromas from different regions.
The restaurant is fairly priced and delicious.
Your choice of rooms is as follows:
Beachfront, full oceanview, partial oceanview and garden view.
Accomodations include: King or 2 double beds,
ceiling fan, private bath, window screens, bedding veils,
patio with sitting area and hammock.
This picture is of a beachfront bungalow at this hotel. Steps from the beach!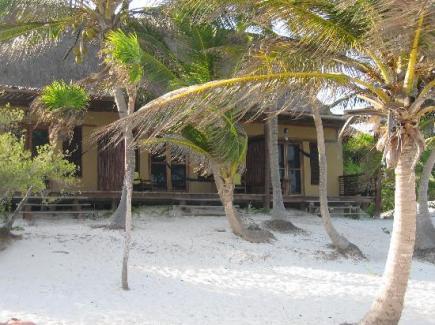 Return to Boutique Hotels from Ocho Tulum Hotel

Return to Riviera Maya Hotels from this site