Dreams Tulum
Vacation of your Dreams!
Dreams Tulum in Riviera Maya is a perfect getaway for your family or friends!
With manicured gardens, white sand beaches and Tulum 5 min. away
You won't be disappointed in this beauty of a resort!
1 hour south of Cancun, 30 min. South of Playa del Carmen
Golf nearby and more than enough for the kids to do!
This beach is perfect for long memorable walks on the beach!
The picture shows the adult only section of the beach.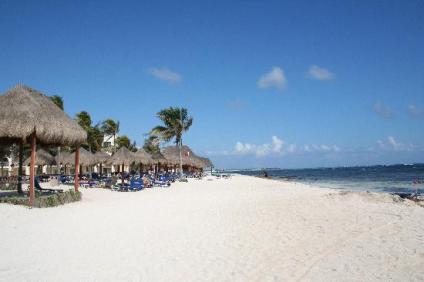 What is unique about Dreams Tulum?
Emmaculate rooms with private patio
Mp3 docking alarm clock, marble floors
Secret box for room service, indoor jacuzzi
Huge free form pool, children's pools
Euro bungee, Ocean trampoline
Explorers Club for Kids
Kids camping adventure
Pevonia Spa
Wedding packages
Hammock on personal patio
Great Beach on the Caribbean in the Riviera Maya!!
Look how beautiful the grounds of this resort are...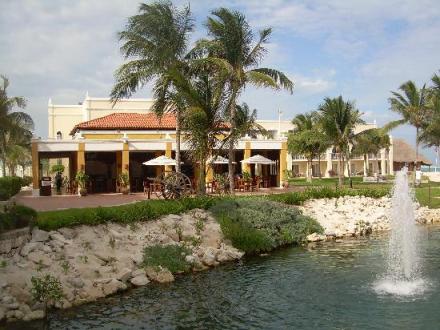 What are the pools like at Dreams Tulum?
There is a HUGE free form pool that goes throughout the resort and a quiet pool if you need a little peace and quiet.
There is also a wonderful children's pool that they can play in and have a great time!
This picture below is the activity part of the pool!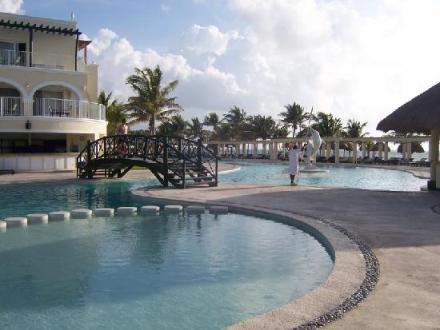 What activities are available?
This all inclusive resort offers lots of activities:
Sailing, windsurfing, kayaking, snorkeling
catamarans, water aerobics, diving lessons in pool
euro bungee, ocean trampoline, floating iceberg climbing wall
tennis, volleyball, soccer, bocce ball, ping pong
table games, shuffleboard, dance lesson, weekly beach party
Fitness center and Spa!
Activities for the kids include:
The resort has some of the most extensive kids activities!
The Explorer Club Staff are CPR and First Aid Certified
Explorer's club for kids for 3-12 years.
Daily activities based around nature, science,
explorations and creative arts.
Once a week camping adventure on the beach
Playground, splash fountain, treasure hunts
sand castle contests, climbing wall, indoor game room
story telling, music, video games, mini stage
and big screen movies.
Lots of activities for your family vacations!
What restaurants are at Dreams Tulum in the Riviera Maya?
There are 7 restaurants with cuisine such as:
Mediterranean, Italian, Chinese, Thai, Seaside grill and Mexican.
There is an adult only French restaurant as well.
A sushi bar, world cafe buffet and coffee house are also avail for you!
24 hour room service is always available!
For a small fee you can have a Private Dinner on the beach
No matter if you are lounging on the terrace or at the pool a butler is always available to assist you with what you may need.
There are 6 lounges as well throughout the resort so a drink is not far off!
Is there a Spa at this resort?
This resort offers the same Spa that Secrets resorts offers.
The Spa Pevonia is beautiful in name and specialties!
Offering services such as whirlpool, plunge pools, hydrotherapy, sauna, steam baths, vichy, swiss, invigorating showers.
Multiple massage options for singles and couples.
Manicures, pedicures, reflexology, aromatherapy
and exotic treatments.
come and relax even more with some of these amazing treatments!
What will my room be like at Dreams Tulum?
The classy and comfy rooms at this resort include
king or two double beds, private furnished patio with hammock,
luxury furnishings, dvd and cd players, TV, mini bar,
mp3 docking alarm clock, marble floors,
scale, hair dryer, ceiling fan, wireless (for a fee)
safe, coffeemaker, twice daily maid service.
Suites include: secrets box for room service, living area, indoor jacuzzi
Here is a picture of your room at the Dreams Tulum Resort.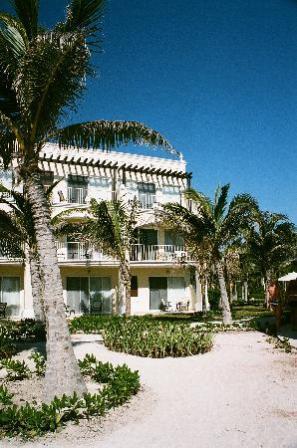 This hotel's beach will blow you away!
Return to Riviera Maya Hotels from Dreams Tulum