El Dorado Maroma
Beach Resort
El Dorado Maroma is located on the Secluded Maroma Beach!
This undeveloped beach is immaculate with white sugar sand and crystal clear waters.
This is a small, intimate hotel where you don't need a map!
Maroma Beach was voted one of the top 10 beaches in the world by Travel Magazine.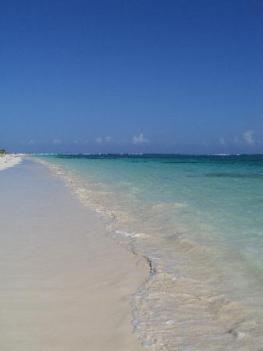 What is so unique about El Dorado Maroma Resort?
One of the Best Beaches in the World
Small, Intimate Resort (72 rooms)
Outstanding Service
Personalized Butler Service
Champagne at arrival
Conveniently located beside Maroma Marina
Infinity Pool Jacuzzi Suites
Outdoor Showers
Gourmet Culinary Events

What kind of pools does this resort have?
When you think of Vacation Spots, you will think of this resort, because it has two beautiful, fresh water pools
20 Infinity Pool Jacuzzi suites, where you have your own personal pool!
You will always get what you need because a Beach Butler is always at your service!
What Activities are Included?
Kayaking, Snorkeling
Scuba lessons in pool
Fitness, Sauna & Steam Baths
Daily & Nightly Activity Program
Live Music
El Dorado Maroma shares their property with the Marina. The Marina offers the following:
Motorboating, Parasailing, Paddleboats and Deep Sea Fishing
At the tour desk, you can arrange for excursions not at the resort, including, Scuba diving, ATV's, horseback riding, and much more!
Shopping is nearby in Playa del Carmen and make sure you exchange your money into pesos to get the most out of it. What restaurants are at this hotel?
Caribbean Vacations offer amazing Restaurants! This resort includes:
Mexican, Oriental and Italian Restaurants
Also included are gourmet Culinary events with a Taco bar, Fish Market, Paella and Beach BBQ
Of course included in your All Inclusive price are all your meals and snacks, unlimited alcohol and your stocked mini bar. Tips are not a must but welcomed.
Bars include: Swim up bar & Ricks Bar.
If your hungry late at night, you can always order 24 hour room service!
This picture is taken from the ocean, looking at this all inclusive resort.

Does this Resort have a Spa?
Yes! A small, intimate and relaxing Spa!
Massages, Facials, Body Treatments,
and Beauty Salon services are available
You defintly want to get that beauty treatment before your day trip to Cozumel.

What are the Rooms like?
Perfect vacation spots offer great rooms! This hotel does just that!
There are two buildings of rooms.
Mi Hotelito section has beachfront rooms and is the closest to the beach.
This is a picture of the Mi Hotelito section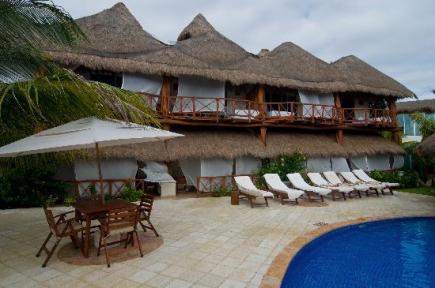 Swimup, Infinity Pool section has 1st floor swim up, and 2nd & 3rd floor Infinity Pools.
Caribbean vacations aren't complete, without a outdoor shower in Beachfront suites
Each terrace has a table and two chairs to enjoy on any typical day
There is also nightly turn down service
This is a picture of the Swim Up/Infinity Suites, perfect vacation spots!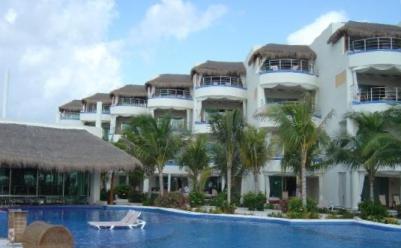 El Dorado Maroma Beach is located 40 min. south of Cancun
10 min. North of Playa del Carmen
15 min. from Playacar Golf Club
All Adults welcome starting at age 16 and only children that are infants are allowed.
Your Caribbean Vacations can be this wonderful!

Check out another El Dorado Hotel
Return to Riviera Maya Hotels from El Dorado Maroma