Luna Blue Hotel & Garden
Playa del Carmen
Boutique Hotel
Luna Blue Hotel & Garden is located in Playa del Carmen and is designed for the traveler who wants to experience the full flavor of Playa del Carmen.
This boutique hotel is not located on the beach, however the unique aspects of this hotel make it a favorite amongst guests in Playa del Carmen.
This beach hotel in the Riviera Maya is on the newer, quieter north end. So if you want a little more peace and quiet in your hotel then this could be a great one for you. Your only seconds away from everything you need in a beach and shopping but yet can enjoy the quiet room you need at night to get some good sleep.
Only 3 blocks from the beach and steps from world famous restaurants.
You are right smack in the middle of everything you need and steps away from the beach!
A short walk to shopping and you can take the Cozumel ferry to Cozumel.
This is an adult only boutique hotel with 18 rooms.
You will have free access to Mamita's Beach Club which is great and offers free lounge areas with hammocks and beds and a beautiful beach!
Show up early at Mamita's if you want a beach chair and umbrella. Towels are provided.
There are two other beach clubs you can pay to have access if you want. They are Kool Beach Club, and Bluecacao Beach Club. Interested in beach clubs?
This is a picture of the beach at Blucacao beach club.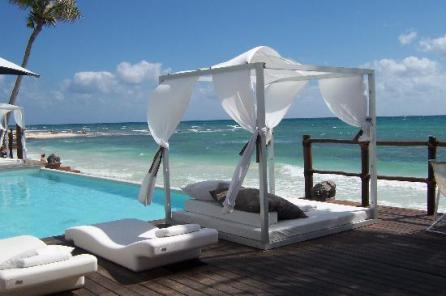 What is special about Luna Blue Hotel?
Luna Blue Bar with swings beneath palapa roof
Free wifi, free beach towels
Mini suites with kitchen
Treetop rooms
Famous for Parrothead Parties! Whenever Jimmy Buffet performs anywhere in the world, this hotel celebrates by grilling cheeseburgers, having drink specials and listening to concern via satelite.
Every Tuesday night Chris Bollister performs in bar!
Across street is Yoga Studio that is great
Tons of restaurants within a block or two with lots of variety!
3 blocks from Mamita's Beach Club
Located off 5th street where the action is!
Unbelievable hotel service
Check out this picture of a rooftop patio at Luna Blue.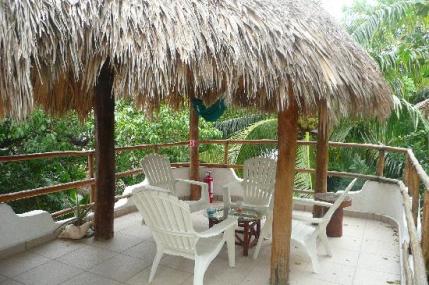 What are the rooms like?
Luna Blue Hotel & Garden offers some unique rooms such as:
Mini Suites with kitchen, dining area and frigerator to enjoy everyday of your stay.
Treetop Terrace Rooms with large private balcony with hammock and sitting area
Tropical Hideaway rooms with multiple windows and garden view
Courtyard Nook Rooms that are ground floor and shared outdoor terrace.
All rooms are non smoking, have no TV or phone to make your stay really be a vacation where you enjoy the beach and awesome weather.
There is free wifi, free beach towels, a/c, safe, fan, daily maid service, free water and refrigerator.
Here is a picture of a room at this beach hotel in Playa.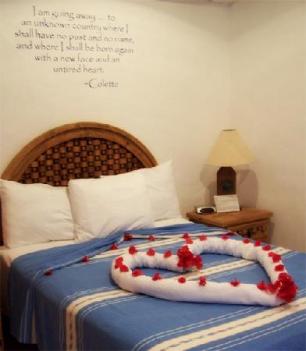 Return to Riviera Maya Hotels from Luna Blue Hotel