Iberostar Grand Paraiso
All Inclusive Adult Only Resort
Riviera Maya, Mexico
Iberostar Grand Paraiso is luxury at its finest!
This All Inclusive 5 star Iberostar resort in Riviera Maya does not get any better than this.
It is near impossible to hear anything bad about Iberostar Grand Hotel Paraiso. This resort is next door to the Valentin Imperial Maya
It is more expensive than most, but worth it!
Tip: Exchange your money in the airport in Cancun before you leave for your resort to get the best rate.
Located on Playa Paraiso Beach in Riviera Maya, with lots of white, soft sand.
30 minutes from Cancun and 5 min. from Playa del Carmen.
Iberostar Grand Hotel Paraiso has a roman/classic architecture that makes this hotel unique and extremely classy.
It's lush tropical gardens, murals, marble and beautifully designed pools allow this all inclusive resort to stick out among others.
You will have access to the 3 neighboring, sister resorts,
Iberostar Paraiso Beach, Iberostar Lindo & Iberostar Maya.
This picture is taken from the ocean facing the Iberostar resort. Notice all the palapas!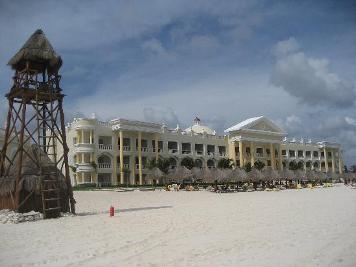 What makes Iberostar Grand Paraiso 5 star?
Everything about this all inclusive Iberostar Grand Hotel Paraiso is 5 star!
From the moment you arrive in Riviera Maya, the service and hospitality will amaze you.
Welcomed with a cool towel and champagne and escorted to meet your personal butler who then will check you in and take you to your room. Your personal butler will note your favorite drinks and make sure your minibar is stocked with those.
Your personal butlers job is to make sure you are completely happy and have what you need. No need to learn Spanish but you could use a few easy phrases to gain a smile.
Now that is 5 star Iberostar service!
Elaborate staircases & gorgeous gardens
Private Spa
Jacuzzi tub in all rooms
Opened in 2006-New Hotel in Riviera Maya
Swing for 2 on personal balcony to enjoy the gorgeous weather.
This picture is from a beachfront balcony at Iberostar Grand Hotel Paraiso. Imagine watching the sun rise here!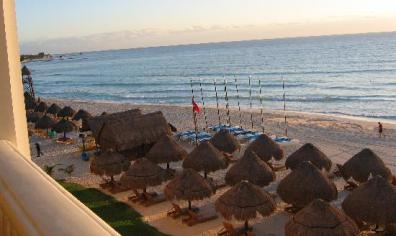 What kind of pools does Iberostar Grand Paraiso have?
Iberostar Grand Hotel Paraiso has 3 uniquely designed pools.
Saltwater pool, Tranquility pool and Heated Indoor pool
There are all inclusive activities at the Saltwater pool in the afternoons
With three large pools to choose from, you will always find the perfect spot!
A Iberostar pool/butler is there to bring you drinks as you wish.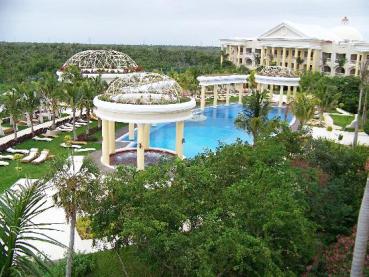 What all is included in this All Inclusive?
At the Iberostar all inclusive includes the following:
All meals, snacks and drinks
Butler service
Wristband which gets you into the 3 sister resorts in Riviera Maya
Free computer and internet access in business center
Free internet in room (with code from concierge)
Mini bar in room
Pillow menu, complimentary round of golf (on the 18 hole course)
Activities included at Iberostar Grand Hotel Paraiso
Cooking class by the water at Iberostar
Live nightly shows(Boogie show, The Broadway show)
kayaking, tennis, yoga
archery, air gun tournaments
full gym, salsa lessons, catamarans
tennis, wine tasting
disco/nightclub
You get a lot for your money at this all inclusive resort.
You can get Padi certified at the on site Dive Center for a fee.
What restaurants are at this hotel?
Iberostar Grand Paraiso offers 5 restaurants and 6 bars that are all inclusive.
Iberostar Restaurants include:
Italian, French, Japanese, Surf & Turf (A la Carte)
1 International Buffet
Breakfast & Lunch Buffets
24 hour room service at Iberostar Grand Hotel Paraiso
Tipping is not required, but greatly accepted.
Does this Resort have a Spa?
There is a private spa at Iberostar Grand Paraiso.
You will be amazed with the Thalasso pool, gym, steam room, infinity pool with cenotes water!
They have all the normal spa treatments available and you will want a nice facial to prepare for your day at Cozumel.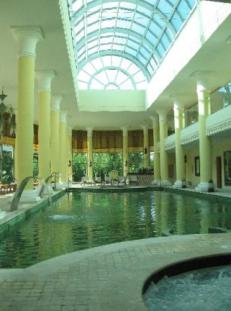 What are the Iberostar Grand Paraiso Suites like?
Iberostar Grand Hotel Paraiso has
180 Ocean or Garden view suites
120 Oceanfront grand suites
10 Secluded villa suites
2 Presidential suites
All rooms have a private terrace, coffeemaker, bathrobes, extra large safe, walk in shower, and turn down service and a lovely chaise.
The Honeymoon Villa has it's own private pool
Each building has it's own all inclusive Butler/Concierge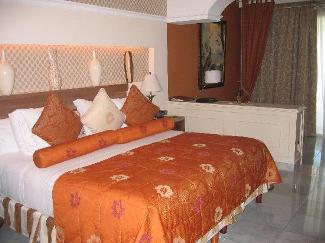 ---
A Resort only a few doors down from this one...

Return to Riviera Maya Hotels from Iberostar Grand Paraiso