Playa del Carmen Resorts
Playa del Carmen resorts are highly sought after in this gorgeous beach town overlooking the breathtaking blue Caribbean Sea.
Playa del Carmen is a small, yet fashionable town right on the ocean that is full of hotels, boutique hotels, top notch restaurants, beachfront bars and an incredible shopping experience.
Basically if you end up in the Riviera Maya, Cancun or Cozumel then it is worth your time to check out this gem!
This beach town is home to approximately 118,000 inhabitants and when you visit you will see why! Who would ever want to go home!
Whatever kind of accomodations you are looking for in this beach town, you can find.
Playa offers an array of accomodations for a variety of different prices, depending on what you want to pay.
There are cheap hotels that just offer the basics, or there are hotels that offer incredible service that is beyond imaginable and a bit pricey, and of course everything in between.
Now let me preface with this, if you do a search for Playa del Carmen Resorts on the web, it will pull up most of the hotels in the Riviera Maya and you have to try and figure out which ones are actually in beach town of Playa.
Most of the larger resorts are in the Riviera Maya area but a drive to Playa, while hundreds are actually in Playa. But you must search to make sure your getting what you want.
I'll try to help show you the ones that are in Playa and the ones that are only a car ride away.
Because Playa del Carmen is such a packed city, there is not room for many large all inclusive resorts directly in Playa del Carmen. But don't be disappointed because only a few miles away on either side of this city you will find more than plenty to choose from.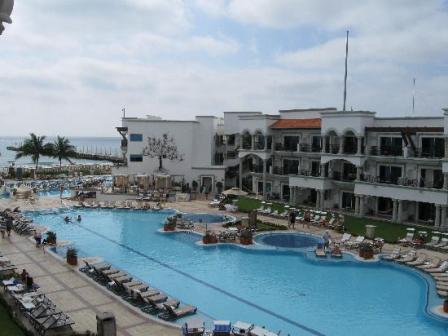 I did find a large Playa del Carmen all inclusive resort called The Royal Playa del Carmen. It's in the heart of the city and it's gorgeous! Prices are average for an all inclusive.
If you want to stay as close to Playa del Carmen beaches as possible but desire a large Playa del Carmen all inclusive resort that is a bit more secluded, then try the following resorts:
These resorts are the six closest all inclusive resorts North of Playa del Carmen.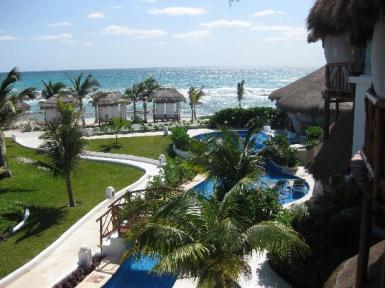 These resorts are the three closest all inclusive resorts South of Playa.
Occidental Grand Xcaret
If you stay in one of these Playa del Carmen all inclusive beach resorts then they all should offer some sort of transportation to Playa since it is so close.
If you desire large, all inclusive resort and enjoy the seclusion that comes with it then this is for you! You can hop on over to Playa in less than 15 minutes and enjoy all that Playa has to offer as well!
There are several top Boutique Resort hotels and La Tortuga Hotel is one of my favorites!! This hotel is just so cozy and friendly! You will definitly leave having made a few more friends.
The resort atmosphere is wonderful and it's amazing how this little gem of a hotel is so well hidden off the main streets of Playa.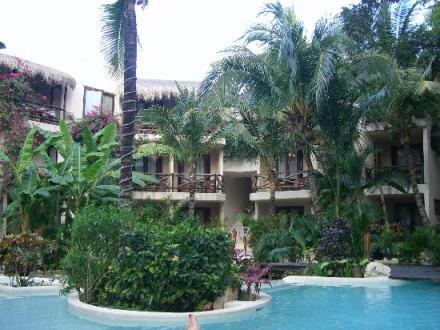 La Tortuga is one of the most famous Playa del Carmen resorts.
Luna Blue Hotel and Garden is another top rated yet affordable hotel right in the heart of Playa.
Playa Maya hits it in the top 10 on the Trip Advisor site and it's a unique, affordable (about $100 a night) hotel that is right on the ocean.
It's simple yet accomodating rooms have all you need!
A super cute boutique hotel called the Hacienda Paradise is located right off the main streets of Playa.
Gaze at the stars underneath the palms while lounging on a hammock in the courtyard. The rooms are classy and have lots of beautiful detail.
There are great options as well such as Hotel Casa Ticul that offer a quiet hotel setting that assures you a good nights rest, but yet you can walk only a short distance to 5th avenue where it's pretty lively. This hotel is very small, but has a pool and all you need.
The Hotel Aventura Mexicana is just right for the traveler who is cost conscious, but wants a really nice place with two pools, street views overlooking Playa and only a few minutes walk to the beach clubs.
There are hundreds of hotels and resorts in Playa and the surrounding areas. The ones listed are highly popular and you won't be disappointed with any of these options.
Playa del Carmen beaches and shopping in the middle of the Riviera Maya that offers all you are looking for in a fun vacation!
If you can't stay in Playa then definitly come for a visit!! Playa del Carmen resorts and hotels are part of the memory!



Return to Playa Info from Playa del Carmen Resorts
Return to Riviera Maya Hotels from Playa del Carmen Resorts